Contact Us
Do you have questions about JB Warranties' Premium Protection Plan? Let's set up some time to discuss how to get the most out of the plan.
📣 Featured Content
---
---
[EBOOK]
[WEBINAR] Update Your Install Packages to Include a Premium Protection Plan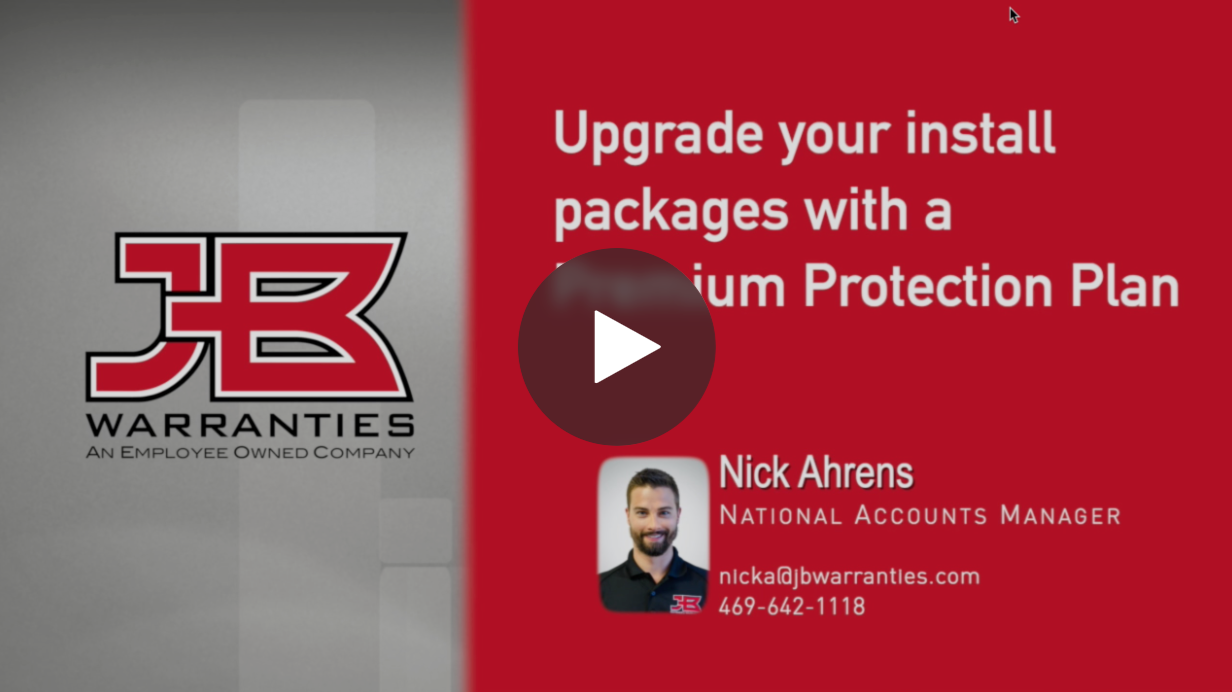 [VIDEO] COVID-19 Safety Tips for Techs
COVID-19 Resources
We understand that the COVID-19 pandemic has had an impact on your business. Here are some resources you can check out for information to help your business.
Podcasts
Not in the mood to read? We've got you covered! Checkout some of the trade industry podcasts.

HVAC School - For Techs By Techs
The HVAC School podcast is about real training for HVAC ( Heating, Ventilation, Air Conditioning and Refrigeration) Technicians. They've also go recorded tech training, interviews, diagnostics, and general conversations about the trade.Check it out!

HVAC Jerks
The HVAC Jerks (Rich, Kevin, and Joe) discuss everything in the HVAC industry from news and technical stuff, right down to stupid customer stories, and how "not to do it." If you work in the heating, air conditioning, plumbing, or electrical trades check it out!

Potty Talk Live
On the Potty Talk podcast, Richard Behney takes the conversation into the trenches, crawlspaces, basements, kitchens, and baths all around to talk about the business of plumbing. Check it out...we heard it's a FLUSHING good time!
Disclaimer: The podcast links below are provided for informational purposes only. The views and opinions expressed in these podcasts are those of the respective podcasters and do not reflect the views and opinions of JB Warranties.
FAQs
Got a question about JB Warranties? We've probably already answered it below.
How do I select the correct HVAC Extended Warranty?
What are the equipment type, tonnage, and length of the OEM limited parts warranty? With this information, you'll then select an extended warranty with one or more of the options below. Equipment with a startup (install) date greater than 2 years is NOT eligible for an extended warranty.

TRIP CHARGE
Do you need reimbursement for Trip Charges? See pages 6 & 7 in the JB Warranties Price Book for an explanation.
PARTS
How many years would you like to extend the OEM's limited parts warranty?
Parts coverage can be extended up to 12 years and begins after the OEM's limited parts warranty expires. For example, parts with a 5 year OEM limited parts warranty can be extended 7 years, for a total of 12 years.
LABOR
Do you need labor reimbursement when you replace a failed part?
Hourly labor rates start at $85/hr and go up to $300/hr. Labor coverage begins 91 days from the equipment's startup date OR purchase date -- whichever is later.
PARTS ALLOWANCE
Do you need parts cost reimbursement? Take a look at page 5 in the JB Warranties Price Book to see our parts allowance matrix.
REFRIGERATION (FREON) ALLOWANCE
Do you need to be reimbursed for Freon? Take a look at page 5 in the JB Warranties Price Book to see our rates and how much we will reimburse.
SEACOAST COVERAGE
Use the mapping tool on our website when selecting an extended warranty to verify the equipment's installation address, and determine if Seacoast Coverage is necessary.
Do you offer marketing/literature regarding Extended Warranties that I can give to my customers?
Yes! We've made a fantastic and FREE tool available to all of our customers that creates custom literature with your company's logo & branding. When logged into the system, you will find it under the Consumer Brochures tab of the Resources section on our website. You can create a Customer Brochure, Postcard, Flyer or an Extended Warranty (Acceptance/Denial) Form your customers can sign (not required by JB Warranties). The files are already formatted for your local print shop.
Are the Extended Warranties Transferable?
Yes! Our Extended Warranties cover the equipment regardless of who owns it and are transferable at ANY TIME absolutely FREE OF CHARGE -- now that's peace of mind! The installing contractor can use our website to perform the transfer or contact our Customer Service team.
The freedom to painlessly transfer an Extended Warranty from JB Warranties gives the owner peace of mind and the contractor an opportunity to service that equipment for up to 12 years. We urge contractors to discuss an annual maintenance plan with the new equipment owner at the time of transfer.
How are Accessories added to Zone Systems?
Our Zone System warranties must be purchased with a Complete System or Boiler warranty. Zone System warranties also include up to $150 coverage on the following parts:
Control or Module
Damper
Thermostat
Sensor
Additional Zone Accessory coverages can be purchased separately.
How long do I have to buy an Extended Warranty?
You have 2 years from the equipment's startup (install) date to purchase a warranty. The expiration of coverage is calculated from the equipment's startup (install) date.
When Can a Claim be Submitted?
A period of 91 days from the Purchase Date must pass before a claim can be submitted. The only exception is for 1 year labor plans, which have a 60 day period from the Purchase Date.
Do You Sell Extended Warranties for Commercial Equipment?
Yes, we have several warranty options for commercial equipment with any combination of labor, parts, and parts allowance coverage on equipment up to 25 Tons. If you need Commercial VRF coverage over 6 Tons, contact us. Take a look at our Price Book under the Resources section of our website for more details.
Do You Cover All Equipment Brands?
We cover all brands of equipment. If there's a brand missing from the Agreement detail page where you enter the equipment's model & serial number information, go ahead and select any brand for now and save the agreement. You'll need to contact our Customer Service team via phone or email. They can add any brand that is missing and update the saved agreement so you can continue with your purchase.
Does Equipment Brand Affect Pricing?
No, the brand of equipment does not affect pricing. The majority of our Residential HVAC Contractors carry 1 or 2 Equipment Brands, in different sizes and types (AC or Heat Pump). This makes adding our Product SKU's most popular Extended Warranty plans to your company's price book simple. Consolidation of warranty and claims processing is in a single place. Also, making it easier to change the equipment brands you sell later on down the road.
What is the Largest Equipment Size (Tons) Covered?
We offer several Residential and Commercial Extended Warranties covering various equipment sizes up to a maximum of 25 Tons.
What is Seacoast Coverage?
Sea Coast coverage must be purchased when a system is installed within 1 Mile of corrosive bodies of water, like the sea or ocean, due to the salt-rich air that gets created. We calculate the distance from the, including Bays/Sounds (main body of water). Creeks, Brackish water, and streams that run off will not be considered as a starting point to determine the distance.
How Quickly are Claims Processed and Paid?
Claims will be processed, and a check mailed, if approved, within 30 days of receiving all required documentation. This year our Claims team set a goal to speed up Claims processing as quickly as possible. Currently, the Claims team is mailing Checks WITHIN 14 DAYS of receiving required Claims documents.
Are there any Deductible(s)?
No, JB Warranties does not charge or collect a deductible.
Can ANY contractor perform repairs on a system covered by JB Warranties?
Yes, as long as the contractor is registered with JB Warranties AND agrees to the labor rate listed on the Extended Warranty. If the contractor is not registered with us, they can go on our website and fill out the Dealer Registration form. Typically our Customer Service team approves accounts within a few hours. If a contractor needs their Dealer Application reviewed immediately, our Customer Support team can review applications within minutes over the phone.
If JB Warranties closed, would your Extended Warranties still be Covered? What about Claims?
Yes, as long as the contractor is registered with JB Warranties AND agrees to the labor rate listed on the Extended Warranty. If the contractor is not registered
From the start, JB Warranties has guaranteed peace of mind for both contractors and their customers by partnering with Dealers Assurance Company (DAC), who underwrites and insures our Extended Warranties. They were acquired in 2014 by iA Financial Group, the largest insurance company in Canada. DAC's Financial Strength Rating was upgraded from "A-" to "A" in March of 2020. A company with this rating, for example, should have enough money in their reserves to cover paying/reimbursing all their claims, repay all creditors, while remaining fiscally strong and operating like normal. DAC is listed as an Obligor on our Extended Warranties. We also list our third-party administrator, Fortress Extended Warranty Administration (FEWA), which is responsible for claims and actuarial data processing. Contractors and their Customers would direct all inquiries to FEWA if JB Warranties were to suddenly close -- we aren't going anywhere. 😉
What OEM Programs are powered by JB Warranties?
JB Warranties is proud to manage the Mitsubishi Mini-split and VRF programs as well as the Samsung and LG Extended warranty programs. If you have a question about any of these programs, please let us know.
Do I purchase warranties through the OEM Program's website or JB Warranties' website?
The JB Warranties Dealer site is used to manage extended warranties on all unitary equipment, from 1 to 25 tons, both residential and commercial. The OEM warranty websites, powered by JB Warranties, are used when purchasing an extended warranty on the brands of equipment listed above (Mitsubishi, LG, Samsung).
If Residential Equipment is installed in a Commercial setting, is it eligible for Warranty Coverage?
This is a tricky question. The manufacture or the equipment determines the parts coverage for registered equipment. Most manufacturers reduce the parts and compressor warranty on residential equipment when it is used in a commercial application. We have plans to extend reduced coverage from the manufacturer as well as plans that extend the coverage of a system when the manufacturer warranty is not reduced. The short answer to this question is; it depends on what the warranty from the manufacturer is.